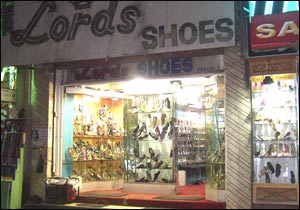 One wonders why anyone would want to go willingly into the crush of the crowds at Parklane just to buy shoes. But once you get to Lord's, the reason begins to dawn on you little by little.

Started in 1986 by Ameer Ali, this shop has seen the changing trends of the twin cities, and has not only kept pace, but has accentuated them to boot (heh heh). Speaking of which, the store has wall-to-wall shoes and boxes stacked up as far as the eye can see. It's very easy to lose yourself in the throng of shoppers while you're wondering if those cowboy boots will really go well with the new Jeans or not; or whether the strappy sandals will make the feet look daintier.

Jampacked with college girls, little kids (led by mothers, no doubt) and your average bharatiya naaris, Lord's initially doesn't seem much different from the many other shoe shops which dot the sidewalks of Parklane. That is until you see their designs and get to know that they have been around for over 20 years.

You would think that to sustain a business in the midst of such strong competition, one would have to advertise rather aggressively. Umm, no. As a matter of fact, when you get to know that they carry out their propaganda purely through word-of-mouth, you have to marvel at the number of happy customers that they have spawned in their 20+ years of being in business.

I had almost got lost in the maya of a powder blue stilleto which goes rather well with a certain outfit, but the spangles on the shoe made me think, "Uh uh!" No way, that's too glittery by half! The young boy who was waiting on me said very cheerily, "Get your outfit madam, and match it with any of the styles we have here. I'm sure you'll find it!" Now, that's the kind of promise a girl likes to hear.

But this kind of attention and sparkly shoes don't come cheap, eh wot? Apparently, they do. Starting from Rs. 150 and going up to Rs. 600+, the range promises that you can pretty much find the kind of shoes you came looking for (and more often than not, did not come looking for) and walk away with a smug grin that comes only from having got mucho value for your money!

Although Lord's has something for everyone, its main clientele is formed of women and children. That a woman cannot have enough shoes is proven daily at Lord's, many time over throughout the day, and much to the merriment of its owners. They have retained their old faithfuls and inducted new ones into the fold, who swear by the looks, the colors, the prices and the utility they get out of their footwear.

As a salesman was proudly telling a new customer, "You can check out the big shopping malls, but you'll come back here because our stuff lasts much longer than the branded ones do and looks just as good and expensive as them!"

A tall claim? Maybe, but I'm going back soon to accessorise. Why shouldn't I put the best and the smartest clad foot forward?