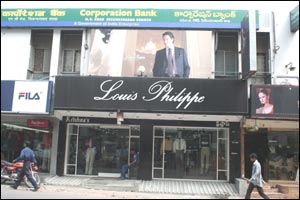 Coming from the house of Madura Garments, this brand of menswear has slowly but surely created a niche for itself in the Indian sartorial consciousness. This particular exclusive Louis Philippe showroom is at first sight indistinguishable from any other branded store. As your eyes get used to the light, however, you notice 1,200 sq. ft. of expensive & tasteful decor and air-conditioned comfort housing a very wide range of menswear - shirts & trousers, primarily.

The shirts are in an impressive variety of designs and shades, and you can just wonder why none hang in your cupboard. The price range may give you the answer - shirts start from Rs. 1,099, and prices go upto Rs. 4,500 per garment. It's that extra quality and durability which justify the slightly high prices, informs the pleasant manager.

The clientele of the store are executives of all ages - especially middle-aged ones - and most of them are brand-conscious. This tells its own story and reminds you how far Madura has come from being a maker of only sewing thread. I also need to search the Net for the background of the name Louis Philippe, since all I remember about the French is that they are great at drinking, and at making revolutions and love. Looks like they have picked up some more skills along the way!