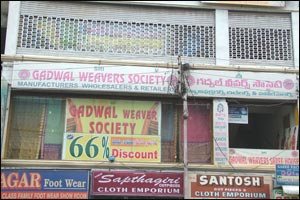 Gadwal Weavers' Society is a little hard to locate in the collage of colorful placards on both sides of the Ameerpet Hanuman temple road. Located on the first floor, it is a 2,000 sq. ft. showroom that is run by a society of 11 Gadwal weavers.

Gadwal saris are special because they have pure silk borders with pure zari on them. The field can be tasar silk, pure silk (pattu) or a silk cotton hybrid (sicco), while the border is always a constant silk (whether Gadwal, kanchi or any other). The field of the sari is segued into the border in a fray-edged, triangular pattern. Gadwal cotton saris are also known not to shrink after washes, and to get better with use.

Gadwal Weaver's Society has a price range of Rs. 200 to Rs. 5,000 overall, and you can count on a 40% lower-than-market price, given the fact that it is run by a co-operative. The cotton saris are the nicest, priced between Rs. 600 and Rs. 2,000. As the weave count gets higher, they cost more.

A single weave sari (80 counts) that I saw, with a small border, costs Rs. 986. This, anywhere else, would cost you around Rs. 1,500. It has a pretty checker-textured ivory cotton field and a small maroon Kanchi silk border with zari. Crisp and bright looking, it is a great buy.

Bigger borders cost more (Rs. 1,200 - Rs. 2,000). Tasar silk field saris come in the Rs. 2,000 - Rs. 3,000 range. Sicco goes up to Rs. 4,000, and pure silks are the costliest, between Rs. 3,000 and Rs. 5,000. Fancy saris come in the widest price band while handloom saris are the cheapest at Rs. 200 - Rs. 500.

Finally, check out the Gadwal pattus. They are heavy, smooth and soft, and come only in double weaving. The color combinations here are unconventional and very traditionally Andhra. For e. g., a purple silk field with a double color beige/purple border for Rs. 4,486.

Pure pattu langas are also available with zari work, Rs. 1,500 onwards.

While Gadwal Weavers' Society also stores Venkatgiris, Dharmagiris, Pochampallys and Mangalgiris, their range of Gadwal is larger than that at most other places, since they concentrate on this. Visit when in the mood to go traditional!
EVENTS AT GADWAL WEAVERS' SOCIETY
There are no events at Gadwal Weavers' Society scheduled currently.
LEAVE A COMMENT
fullhyd.com has 700,000+ monthly visits. Tell Hyderabad what you feel about Gadwal Weavers' Society!