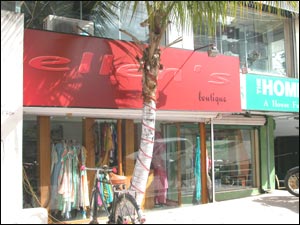 Ellen's is an approximately 150 sq. ft. store that stocks unstitched salwar kameez material. Started in 2004, it has about 1,000 pieces at any point of time. With prices ranging from Rs. 285 to Rs. 4,000, it appears more like a stockist that you would visit if you happened to be in its vicinity.

The materials are mainly chiffon party wear, cotton office wear and crepe. It also stocks the much-in-demand Pakistani suits. The clientele apparently is very loyal, and comes all the way from places as far as Moulali and Toli Chowki. Ellen's plans to open a showroom soon in the old city, since it has a lot of customers coming from there. The owner's brother, Rehan, says that they do not store any particular class of clothing, but vary the stock according to customer demand.

All in all, a fairly average store - you'd visit it if it were logistically convenient to source raw material for a tailoring boutique nearby, but you wouldn't come a long way for it. The limited range probably owes itself to the fact that they have just begun. They plan to get into wedding clothes soon, and it will probably be a worthwhile store to visit once they expand their range and are more firmly entrenched in their chosen market.