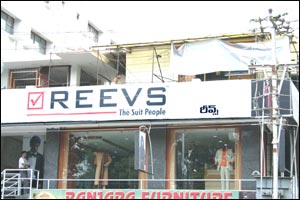 Every man wants to look his best. And then there's only so much that reconstructive surgery can do. But then just 'coz you cover turd with strawberries, don't mean it ain't a turd no more. So for all the pretentious strawberries out there, we have stores that specialize in designer wear.

One more being added to the list is Reevs. A Hyderabad-based garment manufacturing company that has been around for five years, this one specializes in designer wear for men. It also is the abode of clothes by designer Vaibhav Shashank. With its custom-making of men's wear, which ranges from the Western to ethnic, this store has a suit service which promises to have your suits ready within 24 hours.

Also in its arsenal is a collection of designer kurtas, which include short kurtas and some really jazzy sherwanis. The sherwanis range from an affordable Rs. 4,000 to a vulgar Rs. 1.5 lakh. The kurtas are somewhat easier on the bank you will probably rob, and range from Rs. 900 to Rs. 6,000.

Maybe to avoid being labeled sexist, this store also caters to women and their need for formal wear. To please them we have male strippers - the store on the other hand has blazers, shirts and trousers. They too can avail the 24 hour suit service.

Guess this be the place then for those special moments with special people. Anymore sap, and we will be able to manufacture rubber bands on an industrial scale. We weren't kidding 'bout the strippers either.