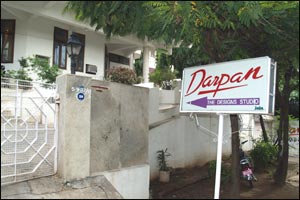 Darpan Design Studio has the feel of a slicked-up neighborhood tailoring shop. Nesting in the ground floor of a 3-storey residence, it welcomes you into a small anteroom with rather utilitarian furnishings. Inside, however, a fairly exclusive range of clothes in a quietly lit ambience greets you. This collection spans kurtis, evening dresses, bedspreads, cushion covers, ghagras, duppattas and some really dear little diddies in gauzy, shiny material (lace up cloth pouches serving to accessorize ethnic wear).

The prices range from Rs. 150 - Rs. 200 for the diddies to Rs. 3,500 for a black evening gown embellished Indianly with tubular black glass beads. If the collection is to carry a classification, it lies in the Indian-fusion range of the spectrum.

Teruna Nagpal, the daughter of Kanta Nagpal, the original entrepreneur who opened this store in 1989, designs many of the clothes. She favors chiffons, georgettes and raw silks, and works with a range of embroidering techniques. Darpan also custom designs entire wedding trousseaus, giving you a choice of budget, fabric, design etc.

The store has a collection of bedspreads and cushion covers for those with a taste for the opulent. Done in reshmi material, these thick bedspreads are covered with pleasant embroidery, and come with tastefully contrasting cushion covers. Jute fabrics also speckle the collection.

Darpan, though, has a very limited range of clothes in its ready-to-sell stock. For e. g., 10-12 kurtis. This is because the store is currently more of a tailoring boutique than a readymade one. It concentrates on custom orders, and often uses these as inspiration for more designs. In that respect, it is a very customer-centric store.

The clothing in the boutique is limited because production is constrained by the delivery times for the tailoring customer, which Darpan meets strictly. Soon, however, Darpan plans to expand into a full-fledged retailing store. The biggest coming attractions are the XL range that Teruna plans to introduce for fashion conscious large women.

Pakistani suits, which are in great demand even right now, are another reason to go to Darpan and nowhere else. They boast a decent collection. Children's partywear in out-of-the-way designs (such as a pair of silk flare-legged pants with a face embroidered onto them) are exclusive of Darpan, too.

All in all, recommended if you are looking for superior custom designing skills. The readymade collection is, as yet, too limited, but can cater to certain tastes.

Definitely worth a try if you are in the neighborhood for clothes.
EVENTS AT DARPAN DESIGN STUDIO
There are no events at Darpan Design Studio scheduled currently.