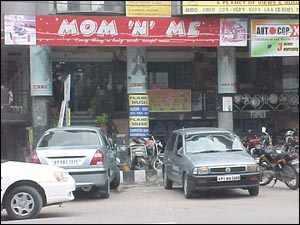 Have you ever wondered how the drivers on certain roads go insane when they see a traffic jam and sift through every nook and corner? Well, the Himayatnagar main road is one of them. Mom 'N' Me is a store that is situated on this horrendous road. That's what they perhaps mean when they say "Kaboom".

But enter this charming store, and you would definitely know that your shopping spree for the baby or the mother is over. Mom 'N' Me has got everything for the mommy and the baby. Their catalog has over 90 items, starting from infant-feeding accessories, infant garments and infant utilities, and going all the way to infant cosmetics.

Like the name suggests, this store is not only about babies - it has utilities for the mother as well. Mom 'N' Me has nursing gowns, nursing bras, breast pumps and several other utilities. This store also has a variety of clothes including traditional outfits for babies that range between Rs. 80 and Rs. 2,000. Although the place is a little small, do not underestimate its capacity to hold all the items that a baby or a mother could need.

The tag line for this store is "Everything a baby needs except a mother", and that's precisely what it is all about.