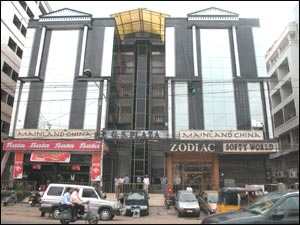 Ever since I was a little kid, Zodiac in our family has been associated with strong white handkerchiefs and well-made shirts. It was an annual ritual every year to go buy a pair before start of school. Even now, nearly 10 years since, the brand has lost neither its charm not its appeal. It still caters to that select set of discerning customers who can tell a good shirt from a bad one.

The store at Banjara Hills comes across as something that would definitely cater to only a select customer base. Decently spacious, it doesn't do justice to the vast collection that is Zodiac. It stacks the regular stripes, checks and plains, but hardly something that would catch the eye, much less tax your imagination. And starting from Rs. 800, the wares are definitely on the expensive side. If you are looking for some party wear, they have a small nook dedicated to their ZOD collection, which is another exercise in limited choice, and costs all of 1,200 bucks per shirt.

A decent trouser collection, with the customary khakis and pinstripes, makes up the rest of the collection. Oh, they also have their wonderful range of power ties – frankly the only thing that would interest you in the entire shop. They're definitely worth a look-see. The quality is beyond reproach, but variety is non-existent.