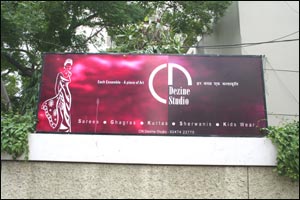 Go by the adage of not judging a store by its window dressing. When you enter Archian Dezine, a boutique hiding nondescriptly in the ground floor of a Jubilee Hills residence, it presents a somewhat dusty visage. There are workers sitting around on the floor of an obvious living room, tailoRs. sitting among reams of cloth and sewing on antiquated machines. It's only when you get a glimpse of the tinseled saris piled inside one of the inner rooms, peeping out like treasures in a rusty sea-chest, that you get the picture.

A look at the price range will explain everything. The saris, lehengas and salwar kameezes start at Rs. 2,500, go on through the fast moving Rs. 30,000+ range, and finish at a whopping Rs. 100,000. You can only imagine how ornate they are. Also, beyond Rs. 10,000, they do not repeat designs to ensure exclusivity. Here is one I saw for Rs. 38,885: a blue silk sari with Pitta Ari work in orange and pink Nizam motif inspired patterns. In addition there are Pitta Zardosi work and large mirror-like stones stitched into the design. Then there are even bigger glaring, ostrich-eye like dark green stones; copper patti work on the border, and threadwork and sequins for good-measure.

Archana works only with natural fabrics - mainly silks, georgettes, crepes and jutes. While she does everything from brush painting, block printing and dyeing at her 60-worker unit, brocade work, Rajasthani gota work, restoling old saris and doing entire wedding trousseaus are her specialty.

Archana makes her sales sitting on a traditional pallet, talking enthusiastically to her customers and displaying her clinquant wares. An energetic lady with obvious verve for her work, she points out the various intricacies of her designs in a breathless deluge of words.

You can also visit this 6-year-old tailoring boutique for custom designing for special occasions. Archana's clearly prodigious and prolific designing skills, especially given her lack of professional training, will certainly awe you. There are few other stores in Hyderabad that offer such a wide range and such painstaking detail in sari designs. The next time you need party wear, go all out and try some of these dripping-heavy, jeweled saris. You will be less visible than your sari, but it will still be worth the buy.