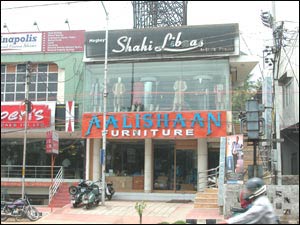 Despite substantial efforts at saffron indoctrination by our Hindutva brigade, I cannot but help realising how much the kurta pajama, band galla and sherwani have become a part of Indian culture. And this lovely store, housed in 2,500 sq. ft. of tasteful decor and air-conditioning, has just about everything you would possibly want in Indian formals. Kurta pajamas, fancy coat suits, shaadi pagris, juthis, sherwanis and even Western formals.

Shahi Libaas has only two exclusive stores in Hyderabad, and this one, on the first floor of the complex, has an impressive plate glass view of the busy S P Road. Parking, the manager informs me, is no problem, so you can actually take your time selecting and browsing without the fear of losing your means of transport.

Shahi Libaas has its own factory, and besides the wide range stocked on the shelves, you can also get your choice of suit custom-made. The price range is also very affordable, and you can pick up what you want for as low as Rs. 700. The range goes upto Rs. 25,000.

I make it a point to get to the bottom of how the economics of such stores work out, especially since I see several cloth stores hawking prepaid cellular connections, socks, handkerchiefs and, of course, underwear. This boutique seems to have no such worries, concentrating exclusively on its main fare. So what draws the crowds, I asked Shafi Bhai, the manager, and am told that the location and advertising make the difference, besides word-of-mouth publicity.

Stores like Shahi Libaas make you wish you were young and marraigeable once again, and snatches of shehnai flirt through my thoughts. It's going to be another day.