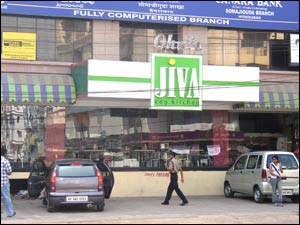 Undoubtedly amongst the best vegetarian, value-for-money buffets in town. The Ohris have got their way into the collective Hyderabadi stomach infallibly mapped out, whether it's with their flagship place in Basheerbagh with restaurants that have become the subject of folklore, or the soon-to-attain-flagship-status property at Banjara Hills, or, then, Jiva, the only exclusively vegetarian place from the Ohri's stable, that unfailingly lives up to its house colors.

The Scene
But then food alone does not a dining experience make. The experience actually begins way out in the parking lot. And here is wherein lies the rub. With almost negligible parking space on the crowded Raj Bhavan Road, and an overly enthusiastic customer base to boot, parking, with or without the valet service, is not a pretty sight.

However, you would suppose that that's the price to pay for prime location. But the crowd that was so far in the parking area soon trails you into the restaurant lobby and keeps you company while you wait for your turn.

The restaurant itself is divided into two sections - the outside section is where you can order the entire gamut of eatables, reasonably priced, not unlike the usual ubiquitous Ohri coffee shop / food court fare, ranging from south Indian delicacies, parathas, frankies, even Chinese food and wood fire pizza, while the inner section is where the aforementioned buffet is laid out.

The Food
The buffet, priced at Rs. 135 per person, is quite easily the star attraction - the commendable service, the mood lighting, the eclectic Hindi music, the not-very-comfy chairs, and the prompt refills of the buffet dishes, are left waiting in the wings. For the food at Jiva has its own fan club - just the number of people waiting outside should be enough indication of its Diva status.

For an exclusively vegetarian buffet place, Jiva has managed to hit bull's eye on a rather niche target audience. Full points, however, to the management and the kitchen for pulling it off. The elaborate buffet starts with chaat, soup and starters, which is served at the table. Then you can toddle up to the serving area which displays salads, curries of at least 6 different kinds on any given day, some rather desolate Chinese dishes that are entirely ignorable, the ubiquitous sambar-rice, biryani-salan, curd-rice combos, some very interesting specials, down-to-an-art naans and rotis, and an extensive dessert section.

Heart-warming sights include a range of pickles that just make you happy by their presence since there is actually no room for them, and raitas of 3 kinds, papads, drinks and other accessories that make that Rs. 135 meal feel like a steal.

The Verdict
As mentioned before - an offer you can hardly refuse.