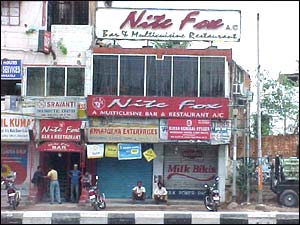 From the outside, Nite Fox seems a very dingy and cramped place. It does not get any better from the inside. There are two staircases, and both lead you to the Jantha ("Public") section. As you start wondering what on earth this is, the waiter comes to your rescue with an audible explanation, "Orchestra in the Deluxe and VIP sections after 8 only, sir," and you go ultra-red in the face.

Nite Fox has three sections, all equally shady. The Jantha section is dim-lit, courtesy the dust on the bulbs. The food menu offers Chinese, Indian and Mughlai dishes; and the liquor menu has the usual offerings to keep you in high spirits. The prices here are quite nominal, with a good meal costing about Rs. 100 and spirits ranging between Rs. 60 and Rs. 200.

In the Deluxe section on the second floor, you will find the same menus, except that the rates go up miraculously by 40 bucks for everything, with a surprise package in the form of a stage where 'aspiring' female singers sing in a crackling voice. No, you cannot request for a Janis Joplin song.

And the VIP section: here you will find a lounge kind of setting with actual comfy sofas lined-up in a neat semi-circle. The stage is well decked-up, and the noise is louder. You will also find a male singer crooning heart-broken melodies. The prices are 50 bucks more than at the Deluxe section. Also, the waiter shouts in your ear that you have to order one dish and one spirit at least. The lowest priced liquid is a mineral water bottle at Rs. 25, and is not considered a valid spirit.

You cannot question the manager about the legalities, because he is three times the normal human size. Once on the outside, you try to wriggle your bike out of the horde of other vehicles, pay the parking guy the customary change without arguing about his credentials, and get the hell out of the place, because the extra-spicy food is asking for your kind attention!

Nite Fox is a place where it is safer to venture during the day, and not a place that you would prefer to be seen at during the night.
LEAVE A COMMENT
fullhyd.com has 700,000+ monthly visits. Tell Hyderabad what you feel about Nite Fox Multi-Cuisine Restaurant And Bar!