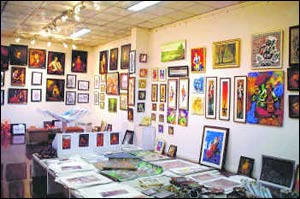 If you ask around for the directions to Royal Art Gallery, the answer you'll hear most often will be the common "idharich hai". If you're on the right track, nine times out of ten this might be true, because even though it is a bit tough to spot - it's on the first floor of a building, the entrance to which is a small door leading to a narrow flight of steps - the good thing is that it's right there on the Sultan Bazaar main road.

Royal has a total area of about 500 sq. ft., and the best part about it is that it's quite neatly maintained. The narrow stairway may not be the grandest or most inviting of entrances, but at least it's not pan-stained, and it probably won't be anytime soon, given the way the wall tiles have been used. Royal Frames, the other enterprise of the owner of Royal Art Gallery, is right across the road. So basically, you might not have to go very far to frame the pictures or paintings you may wish to exhibit. Whether they'll do it for a discount is for you to find out.

On display at Royal Art Gallery as we write this in June 2005 are prints of the works of English artists, as well as some signed prints of local artists such as Lakshma Goud and Vaikuntham, priced Rs. 2,000 upwards. An exhibition of their original works is in the offing, and that's certainly something to look out for.
EVENTS AT ROYAL ART GALLERY
There are no events at Royal Art Gallery scheduled currently.