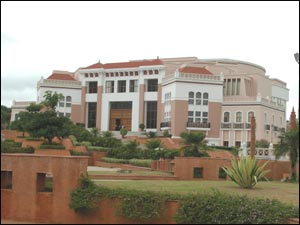 Easily the best auditorium in the city, the Shilpa Kala Vedika is quite a pleasure to visit. Apart from several music and dance performances, some of the biggest plays in town have been staged here; the auditorium is perfect both for large productions with lavish sets, as well as for smaller ones with few props.

We loved Tumhari Amrita, with Shabana Azmi and Farooque Shaikh sitting in pools of light and reading out letters - it's a credit to the sound system that we resonated to the lilt of emotion in every word. The brilliant Tughlaq was staged here too, and left its audiences spellbound with its gorgeous costumes and excellent acting.

Shilpa Kala Vedika's large seating capacity works both for and against it, as organisers of public performances are never sure that enough people will turn up, and so have to price tickets high, which puts it out of the common man's reach, which results in not many people turning up, and so on. Vicious circle. Also it's very far from the center of the city. The auditorium is used extensively for business and technology conferences, however, as it comfortably holds quite a crowd.

One bone to pick, though. Edible substances aren't allowed inside the auditorium - they are very strict about this, but some smuggling in has been known to happen. Ahem. While this is a good rule and keeps the place really clean, it also means that the interval is the only time to hurriedly stuff food and water down your throat. But the canteen counter only has limited chips and sandwiches, so it's a first-come-first-grab thing. Stampedes are inevitable, and perfectly posh people will elbow you and call you names. Maybe a queue system could be introduced? As part of a 'Save Our Toes' campaign?
EVENTS AT SHILPA KALA VEDIKA
There are no events at Shilpa Kala Vedika scheduled currently.