Shiva Shakthi 70mm (Kapra)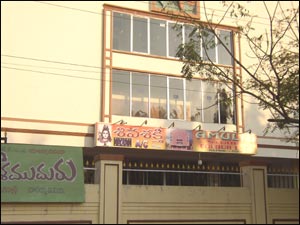 There are a host of reasons that this theater has been rated 4/10. Primarily, the entrance is concealed amidst a barricade of flats encapsulating the entire hall's campus. And, after a thankless ride into the premises, you are caught between men and machines - all wrestling with the trifling amount of space available. The parkingwallah yells at you to hurry up. You have no choice.

Secondarily, the facade reads Shiva Shakti "35mm". Relax - the hall was renovated last year and now has installed a 70mm screen and a DTS sound system. What's in a name, huh?

You are now inside the hall, and are alarmed at the settings in the interiors. Huge sculptures of Shiva and Parvati, and paintings of Ganesha and other Hindu gods, consume most of the area, instead of the normal movie posters on the walls. However devout you are, there isn't much you can do here. Once on your seat you realize it has been a bad day. First the traffic jam, then getting late for a good movie and having to settle for this one, and now the dysfunctional A/C and the ineffectual sound system (did I hear a DTS early on?).

You have one option of saving yourself from further complications - don't touch the food, and stay away from the loos. Although a placard outside reads "Outside food not allowed", carry your food and water and a few anti-allergents (insect bites result not only in pain but uneasy rashes as well!).
SHIVA SHAKTHI 70MM (KAPRA) SNAPSHOT
Listed In

Address

Telephone

Distance

Air Conditioned

DolbyDTS

Tele-Booking

Year Started

Closed On

Prices

Payment Option(s)

Closest Bus Stop

Closest MMTS Station

Add New Field:
LEAVE A COMMENT
fullhyd.com has 700,000+ monthly visits. Tell Hyderabad what you feel about Shiva Shakthi 70mm (Kapra)!