Suresh Theater (Seetaphalmandi)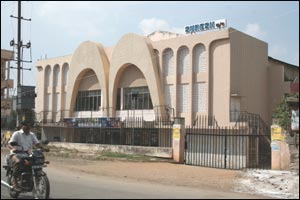 It took me half-an-hour of asking about at Secunderabad to get to Suresh, and the result is so not worth the effort. I enter the theater about fifteen minutes prior to the start of the first show, and find a lone cohort, nonchalantly swatting flies. Now I am admittedly confused. I am of course familiar with theaters where you have to stand in serpentine queues in the hot sun to get tickets. Maybe watching a cinema here would be easier and better.

Getting a ticket was fairly straightforward. The proprietor was literally beseeching me to take a few more tickets off his hands. I pity the poor trees that had to be cut to make those tickets. They aren't going to see the light of day anyway. It's only when I get inside the theater that I realize why.

You are dwarfed by space in this theater, but do keep to the well-trodden path. You never know what exobiological beasts you are wont to find in its damp and dreary corners. Bespeckled walls, bespeckled floor, bespeckled chairs... they really need to reconsider their interior designer.

Suresh is one of those few cinema halls which have decided Dolby is all hype and no substance, and so mono is the way it is going to stay. I have a feeling it's part of the Flat Earth Society too, but one never can tell.

The whole movie experience is obviously not worth writing home about, much less worth writing in a review. Suffice to say, Suresh is definitely a skeleton in the Hyderabadi cinematic closet.
SURESH THEATER (SEETAPHALMANDI) SNAPSHOT
Listed In

Address

11-2-439, Seetaphalmandi, Secunderabad - 500361

2 users say this is wrong.

Distance

Seating Capacity

Air Conditioned

DolbyDTS

Tele-Booking

Closed On

Payment Option(s)

Closest Bus Stop

Closest MMTS Station

Add New Field:
MOVIES AT SURESH THEATER (SEETAPHALMANDI)
There are no movies at Suresh Theater (Seetaphalmandi) scheduled currently.
LEAVE A COMMENT
fullhyd.com has 700,000+ monthly visits. Tell Hyderabad what you feel about Suresh Theater (Seetaphalmandi)!