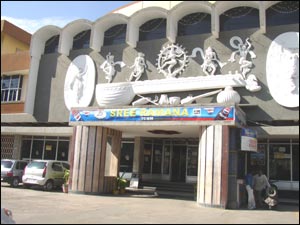 In the beginning, Sreeramana doesn't appear to be a mainstream theater. But once you spend sometime inside it, you'll realize that you're wrong. Sreeramana not only does not appear to be mainstream, it isn't mainstream.

But invariably, the theater runs housefull. This is due to the theater's policy of running only the latest movies for just a week. And more importantly, its location is prime. Everybody in the neighborhood (Shivam, Ramanthapur, Nallakunta, Amberpet etc.) loves going to this place. Mainly because they can't go anywhere else. Also, the government stats show a high percentage of masochistic behavior patterns in these places.

Sreeramana has some really crowded interiors. The seats are not very space friendly, and not very earth friendly either. They're especially not human friendly. The sound system is demigod. No, we didn't say that - we said 'semi-good', but the sound system here made it sound that way. But most consider the sound system here as the best feature.

The screen is a bit of a better deal. It does show what the projector's trying to do. There aren't many cars that come along, so the parking for the 4-wheelers is sufficient. There might be a few complaints regarding the cleanliness of the place, too. And one too many tickets for sale outside the counter.

Overall, Sreeramana is not a cinema-hall haven, but it's definitely better than other theaters of its genre like Light House, that stopped existing decades ago. So go to Sreeramana to get a gist of what lies ahead after you are six feet under.
LEAVE A COMMENT
fullhyd.com has 700,000+ monthly visits. Tell Hyderabad what you feel about Sree Ramana 70mm (Amberpet)!