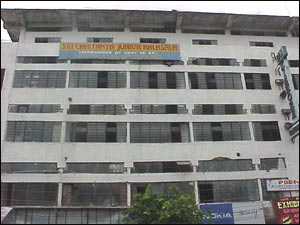 Sri Chaitanya's academic achievements are like the stock market indices. We encounter them almost every day, but only a few of us notice them. But once in a while comes the crash that grabs all the attention. Cases of students committing suicide from these authoritarian residential colleges have appeared more than once. In 2001, there were three reports of suicide in as many months from the Vijayawada branch.

To be fair, Sri Chaitanya's name is not the only one to appear in these unfortunate lists - Intermediate education is a huge business, and several other well-known junior colleges are known to function as concentration camps for two years with little respect for human rights. But Sri Chaitanya's name appeared in the lists multiple times. It was also (in)famous for not allowing parents to meet their kids when they wanted (the students stay at hostels) saying that would disturb the children, for some ill-behaved boorish wardens, for conducting classes during vacations etc.

The good news is that Sri Chaitanya was no dead ringer for all the criticism, and the draconian coaching methods seem a thing of the past now. By 2005, Sri Chaitanya had 17 branches with 12,000 students in the city, making it the biggest junior college. That cannot be for nothing - they do deliver. For years now, they have dominated the Intermediate and EAMCET top rankers' lists (especially in medicine, with Narayana leading in engineering as we write this), and are slowly making a mark in the IIT-JEE rank-lists too.

The methodology is of course rigorous and exacting. Extra hours of study, classes during holidays and vacations, and continuous tests are all de rigeur. The lecturers are dedicated and motivated, and, most importantly, well-paid. All of this translates into the full page ads with a zillion photographs. To most parents, it seems worth it. And as for the kids, they're just kids.
EVENTS AT SRI CHAITANYA JUNIOR COLLEGE
There are no events at Sri Chaitanya Junior College scheduled currently.
LEAVE A COMMENT
fullhyd.com has 700,000+ monthly visits. Tell Hyderabad what you feel about Sri Chaitanya Junior College!