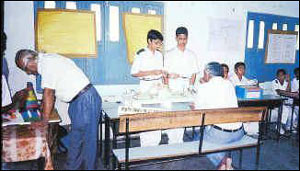 My first memories of Satya Sai Vidya Vihar are of walking my little sister, in Standard IV at that time, to school, and then hanging around self-effacingly in the adjoining playground watching the morning assembly. I was 10 then, and was not given being given admission. My enterprising mum had to use a reluctant cabinet minister's recommendation to get me through finally, 2 months later. When your little sister gets in through her merit and you need strings pulled, it's more reality than a 10-year-old can handle. Therefore I chose not to handle it.

That was 1984, and the school was in a small but self-respecting building in serene Shanti Nagar, catering primarily to the Masab Tank / Mehdipatnam / Vijay Nagar Colony geographies. It moved to suburban Bagh Amberpet in 1988, into its 5-acre barn-door campus, and has since become the dominion of kids in that niche radius.

That's what Satya Sai Vidya Vihar has always been - a neighbourhood school. From the years when it was a rented-bungalow operation that hopped around the Mehdipatnam/VNC area, to a doozer edifice now that would rank in the top 10 in town in sheer size, it hasn't ever realized its potential to become a pan-Hyderabad school.

Satya Sai was more an extension of home. So you could speak in Telugu even to your teachers (it's an English-medium school), recited chaste Hindu slokas every morning in assembly in unison unadulterated by the purpose, studied with demure girls dressed in vonis (yes, not even salwars), and hung out with kids all in the same economic stratum as middle-class you - colluding with lunch-boxes in recess, taunting the unpopular kids, imitating idiosyncratic teachers, and sharing your deepest secrets, including, of course, girls.

A highly religious school that did its honest bit to indoctrinate you into devotion for Satya Sai Baba of Puttaparthi (the school is funded by his charitable trust), Satya Sai Vidya Vihar also did a pretty punctilious job of preparing you for exams - it had a 100% record in the SSC exams for all the years that I was there, with 90% of the batch getting first class (defined as 60% of the maximum marks, or 360/600). Dedicated teachers pain-stakingly corrected 3 pre-final examination papers for Standard X students in attempts to get even the weakest of 'em over the bar, always with success.

While the school had a huge playground, and specific classes for sports, there was immature focus on grooming kids into well-rounded individuals, or perhaps even awareness that it should be done. Satya Sai didn't slick you up, or make you realize any potential - it had great systems geared to clearing board exams, and it ran you through them. The good kids walked round the exams and got ranks, the average ones muddled through, but they all made it - high mean, low standard deviation.

If you are looking, however, for kids who make good orators, actors, writers or sportsmen, there are no great chisels for that here. Extra-curricular life started and ended with the Independence Day drills, and most other attempts had intermittent bouts of lives. The school didn't encourage even boys and girls talking to each other. It's forever going to be hard to say if the thought behind that practice is too defensive.

But let's not get carried away - with the exception of maybe a dozen schools, there aren't any in town that do all this. There are kids everywhere who can pull through in flying colors with no teaching whatsoever, and there are kids coming out of every school who will walk on the wild side in life. The very fact that it was so hard to get admission meant that Satya Sai had an unbeatable Value For Money equation (I paid Rs. 35 per month in Standard X). And it has had its fair share of students who went places.

On the whole, Satya Sai tries to imbue into its wards a fear of God, and a curriculum that it dispenses with ethical zeal. And the kids stay down to earth.