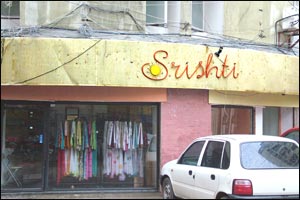 Through the glitter, the prints and all the way till the bandinis, Srishti is a garden to make your own bouquet. Mix and match to get the best and the most unique outfits.

Srishti can be categorized as one of the minority stores in Hyderabad that will peacefully allow you to design your clothes instead of babbling suggestions franticly. The clothes here include salwar suits, dress material, saris and skirts that were hand-picked by the storeowner herself.

Srishti could be "the" place for salwar suits and ghagras if there is adequate time, since designing these clothes to look perfect could be slightly time consuming. The prices for salwars and the raw material range from Rs. 500 to Rs. 3,000. The skirts here are a bit expensive, ranging around Rs. 2,000, but are absolutely worth every single rupee if you have the confidence to carry one in style. The saris here are for the younger legion, and range from Rs. 850 to Rs. 3,000.

Finding Srishti is the least of your worries, and with a brilliant in-store designer, it is an excellent store if time is not scarce. It is not the largest store that you can find, but as you walk in, every single bit of clothing has a personal touch that will elate you to a level when your mind will scream, "Darling! This is it!!!"