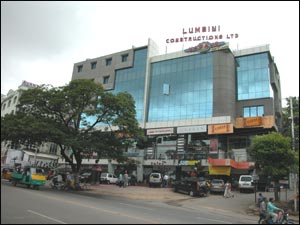 Barely a couple of months old, Strip is Hyderabad's latest exposure to Western wear. Bare, strip, exposure... now you know what we are getting at through that sentence. That's what the merchandise here looks like.

A very well-designed 1,600 square feet, two storeys and high pricing is what Strip is all about. The place stocks apparel for men and women, belts, footwear and cosmetic jewelry.

The clothing line for women consists of club wear, casual wear and denim wear priced between Rs. 750 and Rs. 4,500. The denim wear essentially comprises of Jeans in low waists and boot cuts. Other than that, the place also has capris, shorts, skirts and jackets in denim. Strip also sells handbags in rexine, leather, cotton, canvas and suede, priced between Rs. 550 and Rs. 1,400.

This is one of the very few places in the city that give an equal footage to men's wear too, which occupies an entire floor here. It consists of party wear in satin, silk and cotton, and in crushed and netted material. The place also has leather and corduroy jackets priced at a flat rate of Rs. 2,990. T-shirts in various colors, resplendent with graffiti, are available for Rs. 600 to Rs. 990. Denim wear occupies an entire rack, and comes at Rs. 1,350 to Rs. 2,500.

The footwear available here is some of the latest stuff to rock the fashion world. And they're right. You'd have to be stoned to wear stuff like this, and it comes for Rs. 350 to Rs. 2,550.

"We also sell Armani-Exchange, Versace and Morgan," quipped Mr. Smart Salesman. When asked whether it was original, he mumbled something and very unglamorously shoved back the thing that he was just pompously holding up a second ago.

Strip has 3 trial rooms, of which only one must have served its purpose going by the footfall at the store. So Strip yourself of all reserves and cash, and shopping at Strip will be quite an experience for you. Okay, bad joke, but give us a break mon! You see what we've been through.