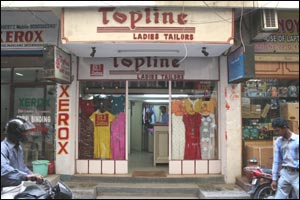 Christmas, as any dyed-in-the-wool Anglo-Indian will tell you, starts long before the 25th of December. Especially if you're female. And have a dance to go to. And it's your very first one with a boy. Big deal doesn't begin to explain it. It's at times like these that a gal needs all the help she can get. Many believe a dress stitched at Topline wins half the battle. So get ready to plan your Christmas look in October.

Topline Tailors is busiest at yuletide. Then, of course, there's the Diwali rush, the Dussera madness, the Id stampede, and the New Year deluge. And all year through, there's a huge demand for wedding dresses. But the one thing that's almost as famous as the neat Topline cuts, is the mammoth waiting period between deciding on a neckline and actually wearing it. There's a good chance that by the time you get your clothes, you will have outgrown them.

But the master, as head-tailors are called, does make sure your clothes fit like a dream. Topline undertakes the stitching of casuals, formals, semi-formals and uniforms, for men, women and children. There's a separate section for the ladies, and most orders are for salwar kameezes and trousers. The rates are slightly on the expensive side, but the job is thoroughly professional. Except for that 2-year waiting period.