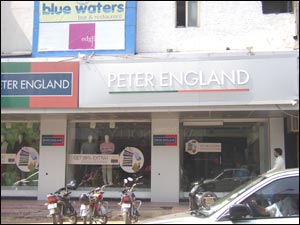 I have always believed that some of the ingredients of a successful garment store are a good, soft decor, pleasant and courteous staff, space, air-conditioning, and the option not to buy. Swagat, the Grasim and Peter England stockist at Parklane, has all of these. With 2,000 sq. ft. on the ground floor catering to a variety of tastes, both male and female, and 3,200 sq. ft. on the first floor reserved exclusively for Peter England.

Besides learning that Peter England - "the honest shirt" - also makes trousers, T-shirts and suits, you also reaffirm your faith in the belief that honesty pays, if the success of the store is anything to go by. Even as I engage the pleasant proprietor in conversation, I am interrupted by matters of greater pitch and moment, like a customer wanting to settle his bill and several more lined upon the long elegant counters.

Swagat gets customers from all age groups, predominantly executives. As I leave, I make a mental note to find out what brand in shirts Harshad Mehta and Ibrahim Telgi favored. Couldn't be Peter England. If not that it's honest, it's too inexpensive for them, available at even Rs. 400 for some nifty designs.
LEAVE A COMMENT
fullhyd.com has 700,000+ monthly visits. Tell Hyderabad what you feel about Swagat, Roopika (Grasim / Peter England)!