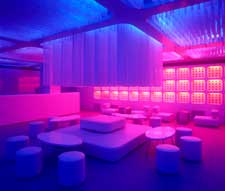 Bathed in a dull red glow, Touch radiates excellence from all of its well polished corners. Pearl white interiors, matched by white leather couches that complement every crease on the drapes and ceiling hangings, the place knocks your breath away even before the rates do. Without an iota of hesitation, Touch has interiors that awe, appeal and appease. Inducing an overwhelming feeling of being important, these are the best interiors in the city. Maybe even the nation, if the awards of the servicing industry matter.

Taking your eyes off the interiors is a only a minor victory. Because ultimately they will have to peel off your eyeballs using a spatula while you shamelessly gawk at all the beautiful people that come here – from movie stars to socialites to business tycoons, this is where you can actually smell success.

Touch takes special care of its status, which includes keeping the media off the property as much as possible, and not letting in patrons without proper footwear (shoes mandatory).

The lounge, which is separated from the restaurant by a French glass wall, can accommodate up to 80 guests. Pepping the guests up with trance, house and lounge music, the in-house DJ Yogi also goes Hip-Hop every Wednesday. It's also the eves' night on that day.

On Saturdays there is a cover charge of Rs. 1,000 for a couple. That's not really high considering that it would cost you so much otherwise, too. What are you spending on? Plenty of specialities like the lobsters and crabs, which are not available anywhere else in town. That probably has to do with the fact that we don't live underwater. They also serve organic food which is not available anywhere else in town. That probably has to do with the fact that people elsewhere are not as paranoid as the ones that come here.

The Touch Martini is hot favorite drink here. Actually the whole place is a hot favorite, and it's quite obvious why.