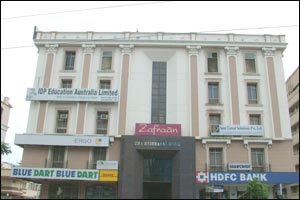 The Scene
A largish hall with lighted alcoves and subdued décor, Zafraan is more of a family joint than a place for couples. You won't find much privacy, and during peak hours things can get noisy.

The Food
Punjabi food is most evident, and the kebabs are also popular. Try slightly sweet Corn Malai Kebab, or the Barra Kebab, with very tender and spicy mutton. From the bar, we highly recommend the Virgin Colada.

In the roti platter, avoid the ajwain-overloaded Makki Di Roti, but do try the excellent Garlic Cheese Naan. The gravy boat has a couple of decent dishes in the Khumb Hara Dhaniya - thick, buttery mushrooms in coriander sauce - and the Rahra Gosht - tender mutton in a non-spicy kheema curry.

The Zafraan Murgh Biryani is, sadly, drowned in the flavor of saffron, and it's difficult to discern any other taste. For dessert try the yummy Zafraan Kheer - creamy coconut and rice with just the right hint of saffron.

The Verdict
Certainly no budget joint, Zafraan could do with larger portion sizes. The service, however, is friendly and helpful, and you'll get best value for money with the Power Lunch (at Rs. 300 a couple). All in all, Zafraan's a fair bet if you're in the vicinity, but it's nothing far out.