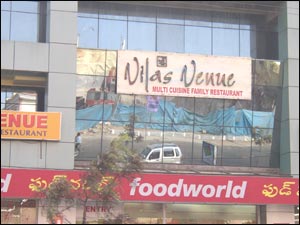 The Scene

When the MCH decided to dig up the Jubilee Hills area, it was doing more than kick-starting the traffic. With long trenches, mostly unaccounted for, and trees brutally cut and lying prostrate, the obstacle-prone area might even prove a blessing in disguise for the kerbside restaurants and bars.

Not that the Vilas Venue needs much help, especially from the city municipal folks - its hygiene and sanitation is unquestionably above suspicion. Neither does the appealingly done decor - which, though not seductive or even comfortable, is still alluring in its own right, and can hardly be attributed to the brain of a civil architect. Where the restaurant can do to get help is from a place where they teach the basics of table management, if not hotel management.

The Food
At Vilas Venue, the waiters come in all sizes, shapes and genders, a trait not matched by its publicized multi-cuisine menu. From the North-Indian to the South-Indian, and from the Tandoori to the Chinese, the wide range of food available is only restricted from reaching your table by factors unknown - from the cooks' reluctance to the bearers' inhibitions, anything could be responsible for the disappearance of the large chunks from the Tandoori section, the kebabs, and the South-Indian meens.

However, whatever do appear, like the Gongura Mamsam, which is a delicious blend of green leafy vegetables and mutton, and the Gujarati Koftas, which are juicy, rolled chunks of mixed vegetables and malai, are promising of better things in store. With the backing of solid recipes and loads of money to create the atmosphere, the management can do well if it looked deeper into the service aspects of the show.

The Verdict
If stranded and hungry, reach for the Food World, situated just below the Vilas Venue. If hungry for good times, wait a little longer till Vilas Venue backs its superb flavors with better service.