Goodlands Bar & Restaurant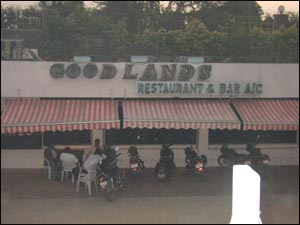 The Scene
Goodlands is not a place you'd have known existed unless you found yourself desperately hungry and in Tarnaka someday. Dimly lit, but plush by the standard of neighbouring joints, the restaurant is decent if you know what to order.

The Food
Resist anything unusual. If you're in the mood for Chinese, try the spring rolls, they're very filling. Go with noodles or fried rice, but choose 'safe' gravies like Chilli Chicken or Manchuria. Even the Diced Chicken is quite good.

Butter naans are very good here, and go great with Kadai Chicken. The gravies all swim in an inch of oil and are spicy. The Paneer Butter Masala is pretty decent. The Goodlands Special Biryani will be pushed by the waiter - order it only if you're in the mood for extra-rich grub. The sizzlers are decent as long as you stick with chicken.

The Verdict
The service is dim, but well-meaning. The restaurant has a roof-garden in the evenings that nestles close to the flyover. Takeaway is really popular, and they deliver within a 2km radius. The bar is popular with stags, and families visit mostly on weekends. In all, for those times when you're feeling too lazy to travel further into town.
GOODLANDS BAR & RESTAURANT SNAPSHOT
Listed In

Address

Distance

Website

Sub-Categories

Other Categories

Average Meal Per Couple

Recommended Dishes

Parking

Veg/Non-veg

Other Features

Alcohol

Buffet

Year Started

Timings

Closed On

Average Meal Per Couple

Payment Option(s)

Closest Bus Stop

Closest MMTS Station

Add New Field:
EVENTS AT GOODLANDS BAR & RESTAURANT
There are no events at Goodlands Bar & Restaurant scheduled currently.
LEAVE A COMMENT
fullhyd.com has 700,000+ monthly visits. Tell Hyderabad what you feel about Goodlands Bar & Restaurant!