Diamond Sweets & Restaurant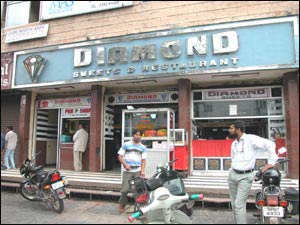 The Scene
A large, noisy guy joint with quick service and cheap rates. The best part about Diamond is that it's open well into the night, and is a good place to grab a bite after a late party. This place sees major crowds from Treasure Island post-midnight.

The Food
Diamond is, of course, famous for the irani tea. Aside of that, the quality of food is directly proportional to how hungry you are. You'll find everything from masala dosa to chat here. Plus fruit juices, tea and coffee. Food is served at your vehicle by super-quick scruffy young boys. All the South-Indian snacks here are decent, and the portions generous. Also try the chat, especially the pani puri and the ragda cutlet. The sweet shop next door is popular.

The Verdict
Diamond is really a kay-fe that serves some good food. The crowd here is fascinated by anything in a skirt, but the most they do is stare unblinkingly. Still, if you're female, you're better off waiting in the car or just getting food packed. On the whole, Diamond is strictly for hunger pangs past municipal curfew hours.
DIAMOND SWEETS & RESTAURANT SNAPSHOT
Listed In

Address

Telephone

Distance

Sub-Categories

Average Meal Per Couple

Recommended Dishes

Parking

Veg/Non-veg

Buffet

Year Started

Timings

Closed On

Average Meal Per Couple

Payment Option(s)

Closest Bus Stop

Closest MMTS Station

Add New Field:
EVENTS AT DIAMOND SWEETS & RESTAURANT
There are no events at Diamond Sweets & Restaurant scheduled currently.
LEAVE A COMMENT
fullhyd.com has 700,000+ monthly visits. Tell Hyderabad what you feel about Diamond Sweets & Restaurant!