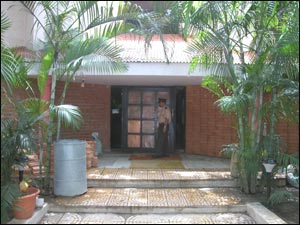 The Scene
Aangan is a Government of AP undertaking, but on all other accounts it comes clean. Crudely matching the cinematic version of a Swiss log-cottage on a Swiss slope, Aangan is a veritable example of a comfortable and chic recluse. Yatri Niwas, with its long and weary tradition of government service over the years, got a much-awaited facelift with the addition of this garden of earthly delight during Chandra Babu Naidus regime.

Aangan is draped in a warm masculine look. The interiors are all wooden and there is a circular inner portion yawning upon the open sky which plays hosts to the smoking variety of the patrons. Leading outwards from this circle the three arms of the restaurant are decked with soft colors and comfortable lights, hushing the diners in a heady lull over their repasts.

The Food
For starters, you can order Pepper Baby-corns (delectable crunchy baby-corn sticks draped in garlic gravy and deep-fried) and a serving of Schezwan Manchurium. Methi Chaman (prepared with seasonal vegetables sauted in thick tomato-garlic puree, and sprinkled with freshly ground pepper and parsley) is best had with piping hot Tandoori Naan. The city is innocuously plagued by eateries boasting of the Hyderabadi Biryani as their specialty. In Aangans case, the boast is not empty, so keep good room for a generous helping of the wonder rice.

The Verdict
Truly the heart of the city, Yatri Niwas is a much visited place for its ideal placement on the map, its good service, and its cache of catering delights including Hunters Roost and On The Rocks bar. Aangan also adds another dimension, real Hyderabadi taste at affordable price.