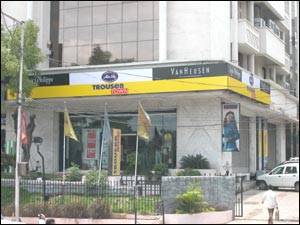 As the name suggests, Trouser Town sells trousers and nothing but. Well, that's what they wanted to anyway. It's a pity that because of 'customer demand' they now have to stack a few shirts, some suits and blazers too, to give their trousers some company. But since everything is from the Madura Garments stable, they can be excused.

The Trouser Town showroom at Begumpet's White House building is huge and spacious. Considering the fact that they stack pants in sizes all the way up to 50 – the only store in the city to do so – they can't afford to be cramped. The assistants are very helpful and know what they are talking about.

The clothes are beyond reproach. Their quality was never in doubt, and now their range is also immaculate. They have formal Jeans – whatever that might be – semi-formals and casuals, apart from the usual formal trousers. Costing anything from Rs. 400 to Rs. 7,000, their trousers are custom-made for every pocket. They also have shirts from Louis Philippe and Van Heusen, but that's just an after-thought. No choice to speak of at all. The range of suits and blazers is also reasonably priced, and sharp to look at.