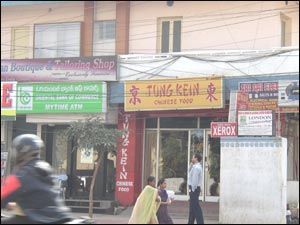 The Scene
Plastic chairs, rickety plastic tables, waterproof paper napkins, chipped plates and clogged ketchup bottles. Don't let all this put you off, though. Tung Kein will make up for most of it with good value-for-money.

The Food
As with most small Chinese restaurants, it's best to stick with safe options like chicken corn soup, veg. noodles, manchuria and fried rice. Avoid anything the waiter tells you is "little spicy", especially anything with 'Szwan' in its name. The Veg. Chow Noodles is very good and goes great with the Apollo Fish, which is the restaurant's best dish. The Egg Spring Rolls are crispy, and make for good starters. The Tomato Egg Drop soup is worth your tentative outlook, too.

The Verdict
The portions are decent and the food can be fairly satisfying if you stick with the conventional. Be prepared to wait for a while, though - the chef here takes his own time with the order, particularly if it involves fish.