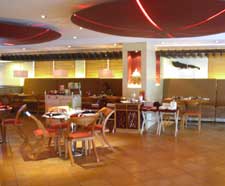 The Scene
Trolleys stop at tables serving steaming hot dim-sums or cups of fragrant tea. Far East is airy, filled with soft colors and lots of comforting space between tables. With a motif mainly of bamboo, handmade paper and porcelain, the restaurant puts you in just the mood for a meal of the plentiful, unhurried sort.

The Food
Way past satisfactory. Whether you're planning on Malaysian, Korean, Indonesian, Thai or Chinese food, make sure you try out at least one dish in the conventional Japanese yakatori style. The full flavor of the vegetables and meat is kept intact, and the slightly pungent teppanyaki sauces are an ideal accompaniment, at once delicate and fiery.

If you're looking for a break from Chinese food, then you'll find some interesting tastes and flavors at Far East. (Worry not, they also have Schezwan in case you're feeling unadventurous.) The bustling teppanyaki counter aside, spicy Malaysian and Thai food have the maximum number of takers.

Absolutely must-tries include: the crisp, generously garlic-ed Phuket Fish, stir-fried Oriental Greens (with divine buttered mushrooms), Crisp Konjee Lamb, and the smoky Taipei Chicken, all of which make great starters. If you're sipping, try the refreshing Mango or Ginger Juliet.

Fried-rice goes well with veggies or chicken in fresh green coconut curry (Malaysian). Try the Paprika Noodles with melting Hunai Fish, or an exceptional order of Prawns In Hot Garlic Sauce. The much-touted flat noodles, Pad Thai, isn't exactly brilliant, but good ol' Hakka Noodles does not disappoint.

Far East also serves oysters, squid and lobsters, and it can serve up any seafood you'd like if you give it a day's notice. The dessert tray has one absolutely scrumptious nibble called Fried Milk; little semi-sweet morsels served with chocolate sauce and marmalade syrup.

A good way to sample most of the fare at Far East without blowing a mighty hole in your pocket is the lunch buffet (Rs. 220 + taxes in March 2008), 12:30pm to 3pm on weekdays. No, they're smart - no buffet on weekends.

The Verdict
Far East is not likely to replace your favorite Chinese restaurant; there are other, stronger contenders in that category. But if your taste buds are in the mood to travel further East, this is a nice, safe (no raw fish) and pleasant place to try out unfamiliar flavors. The teppanyaki counter, in particular, gets a big thumbs-up.
EVENTS AT FAR EAST (OHRI'S)
There are no events at Far East (Ohri's) scheduled currently.