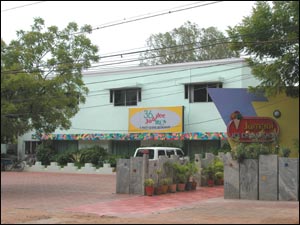 The Scene There will be very few, in fact just a handful, of restaurants, that do as good a job of camouflaging their entrance as 36 Jubilee Hills. While you make a hasty search for the gateway to your emancipation, you'll only come across windows after windows behind an array of parked cars. If not this, then the fact that there is no one within 50 meters' radius to put you wise, is scary. It is a point of Mckinsey-invoked strategy, or a perspective error, but 36 Jubilee Hills is so designed as to place your cars right upfront. The entrance to the restaurant is through a narrow short lane, and your search for it abruptly ends when you espy a small door on your left. These logistical problems apart, once inside you'll be filled with warmth - not upto your head, since they don't serve liquors, but certainly up to your neck. The creamy, softly radiant paint on the walls glows in the tactfully dimmed lights, adding to the cradling effect that the restaurants' sofas are already having on your tired nerves. With blessedly few attempts at displaying art works, the place is homely, comfortable and encouraging. The cozy, yet comfort seating ensures that you don't hurry through the courses. The brisk, energetic - to the point of being pushy - service, ensures that you do. There is a certain degree of coldness that you can sense in the otherwise warm ambience, emanating directly from the waiters closing in on you.

The Food The food is again a mixed story. For starters, they have cold waiters, serving you with Bhutan Veg Balls, and warm fulfilling soups like the Chicken Cantonese Soup. While they start in good flavor, it is the main course that is a little dicey affair. For example, if you want your first taste of seafood, and you have always failed in your zoology practicals, you might end up eating things not exactly well known in the seafaring circles. The Indian main course includes some choice dishes like Mutton Roghan Josh and Achari Ghosht, and all the regular ones like Malai Kofta, Kadai Paneer and Dal Tadka. Between 3.15pm and 7.00pm, it's the Chinese hour, and you can relish Mandarin Fish or Cantonese Chicken, along with all the possible permutations involving Mandarin, Cantonese, Schezwan, chicken, lamb and mutton. For desserts, the restaurant has ice creams and fruit salads. And if you want to indulge yourself any further, there is a separate sweets shop right on the premises, selling mostly chocolates and pastries - perhaps not scrupulously fresh, but eatable nevertheless.

The Verdict While it is a moot point whether 36 Jubilee Hills was christened thus for want of more creativity or because of it, there is no debate that it is a good place for an occasional old-fashioned binge with your family.
EVENTS AT 36 CHATTEES (JUBILEE HILLS)
There are no events at 36 Chattees (Jubilee Hills) scheduled currently.