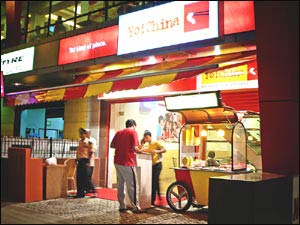 The Scene
There's a faint aroma, something decidedly Oriental but vaguely familiar, and it lures you inside to a table if you happen to walk by Yo! China at Panjagutta. Beyond the takeaway stall outside, the interiors are well-lit, with polished floors, large windows and hip dicor. The seating is split on two levels, with tables of four on the ground floor and tables for two to eight on the first. And up on the first floor, there's an odd spacious but secluded feel to your table, regardless of where you sit.

There's loud music and there are muted televisions. There's also the constant chatter you'd normally hear at a local chai hotel. The waiters are quiet and conservative, but courteous nonetheless. The large windows act as mirrors in the evening so you can't really see outside, but everyone outside can see you, which can be a bit disconcerting if you happen to sit by the window.

There doesn't seem to be an organized system for the waiters. It's very much possible that you'll have a number of different waiters wait on you. It's especially unsettling when you've already ordered and are waiting, and someone come by and asks if you'd like to order something. And the restrooms are disappointingly barely adequate.

The Food
The menu, however, is where things get interesting. There's a substantial range of dishes for you to choose from - and salivate over. Appetizers are attractively priced at about Rs. 10, but can only be ordered with an irking "minimum quantity of five". This might have something to do with their tagline, "Chinese Food, Chinese Prices".

The oil content is surprisingly kept low, and so are the spices - Chinese food is really meant to be more sweet than spicy. There's a slight hint of Indian masalas, if you're keen enough to notice them.

The food is absolutely delicious, with the sauces prepared to near perfection. Everything's served comfortably hot, with chicken being moist and veg items being tender. One of the best deals that Yo! China is pushing is its "combo" dishes. On a plate, you'll get one or two varieties of chicken or vegetarian gravies, fried noodles or rice, along a couple of small spring rolls.

There's seemingly a huge variation of these combos, with each promising to tickle your tastebuds to ecstasy. It's a shame that the waiters are clueless as to which dish has what.

The Verdict
The rather loud ambient noise is a definite turn-off for intimate dates or for senior citizens. Yo! China's more suited to families and friends, with prices at about Rs. 100 - Rs. 130 a person for dinner. Prices are low enough for occasional visits, if only to try out all of the dishes.

Yo! China entices with exotic food, but is let down by unprofessional service. Rather than aspiring to be one of Hyderabad's best, it appears content with being better than the rest.