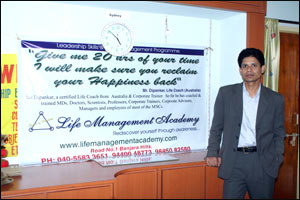 Nothing is as refreshing as a weekend spent with a wonderful group of friends, drinks on the house and plush leather seats inside. Idle banter drifts effortlessly through the room and a few card tables enveloped in their own smoky haze. Add a few pool tables, and you have something that is at once most alluring and entirely beyond my means. Thankfully, the After Work Social Club doesn't cling to that kind of clubbing activity. This is a club of an entirely different style. Seeped in the philosophy of 'Life Coaching', this place aims to help you balance your life.

The club is, at its very essence, an extension of the 'Life Coaching Institute', which aims at self-actualization and motivation. Run by Dipankar Biswas, the After Work Social Club conducts a wide range of activities such as excursions, workshops, adventure sports and other group and individual activities that aim at a holistic development of the person. In addition to this, there are regular seminars and discussions on topics that would have an import on our day-to-day lives everything from personal relationships to time management and value systems. The club is an avenue for people of different walks of life to meet up, exchange ideas and interact meaningfully.

Every weekend, retired civil servants, managers from huge firms, consultants, housewives and lawyers congregate at the club to spend some quality time with each other. They definitely go back immensely refreshed and ready to take on the world for another challenging week.
EVENTS AT AFTERWORK SOCIAL CLUB
There are no events at Afterwork Social Club scheduled currently.