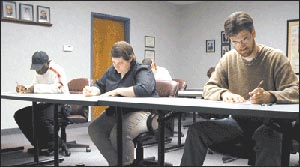 Somebody once said that the only thing IQ tests truly measure is one's proficiency at taking IQ tests. Obviously that doesn't deter Mensa from putting together a group of 100,000 people the world over, whose IQs apparently fall in the top 2% of the population. Picked through Raven's advanced psychological tests, recommended by Mensa itself and administered only by certified administrators, of which only 3-4 exist in India. Now if that's not the height of exclusivity - what is?

Well, never mind - Mensa exists, and with no other unequivocally evident purpose than to give the rest of the world an inferiority complex. What do they do? In Hyderabad, the 7-member group meets once in a month at a coffee place and solves puzzles. And then they have other special interest subgroups where they can discuss and learn about things that stimulate them. For e. g. Business, astronomy, photography and so on.

Mensa, today, is essentially a networking organization that is free from the boundaries of language, religion, education or profession. Which, despite its exclusivity, makes it more all-inclusive than many other groups. The only thing that brings fellow Mensans together is the ability to match wits. Its cleverly vague and panoptic stated purpose allows its members plenty of leverage to bring in and glean out from the forum. The purposes are:

1. To identify and foster human intelligence for the benefit of humanity

2. To encourage research in the nature, characteristics and uses of intelligence

3. To promote stimulating intellectual and social opportunities for its members

From exchange programs to Karate classes, these permissive guidelines have spawned an expansive range of far-out pursuits. Mensa Hyderabad is planning to recruit more members in the latter part of 2005 (this write-up was done in August 2005) and stimulate the level of activity that the Mumbai- and Bangalore-based groups have attained. Once that happens, current and future members can look forward to a lot more intellectual shindigging.
EVENTS AT MENSA HYDERABAD
There are no events at Mensa Hyderabad scheduled currently.