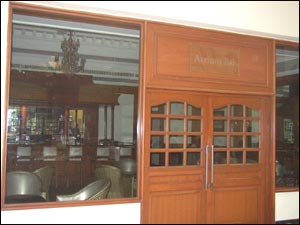 Atrium is a bar for the true connoisseurs of Bacchus' gift to mankind - only if they can afford to be one, that is. The place has not much on the dcor that is unique, with a chandelier and plush seating give it a feel of luxury. The menu makes it clear as to who will pay for the maintenance and wages. But since that does not seem to be working out, they are offering a 50% discount between 1400-2030 as we write this in early-2004, on all Indian brands.

Atrium's offerings include some brands that the tippler would swear by, with prices going as high Rs. 2,500 for a 30ml sip. Aerated water is Rs. 65, and the measure is thankfully not 30ml. Shooters are priced at Rs. 325 each, cocktails at Rs. 325, and mocktails at Rs. 125. Sip cognac for Rs. 2,900 only, sales tax as applicable. Methinks, one of the reasons why men love bars is because they are the only places where they get to spend more money on themselves rather than on womankind.

Atrium has only snacks on its food menu, with prices ranging between Rs. 120 and Rs. 400. They also have a good cigar collection, and the liquor menu has a quote on nicotine by Sir Winston Churchill offering his respects to the pleasures of smoking.

On the whole, a nice watering hole to have a quiet drink, but only if you have five figures on your paycheck, preferably six. After all, the best things in life come with a golden price tag.
EVENTS AT ATRIUM BAR (TAJ DECCAN)
There are no events at Atrium Bar (Taj Deccan) scheduled currently.
LEAVE A COMMENT
fullhyd.com has 700,000+ monthly visits. Tell Hyderabad what you feel about Atrium Bar (Taj Deccan)!