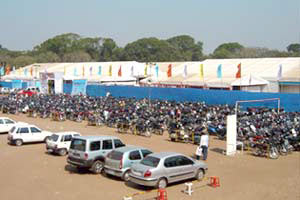 Ah, Numaish. The one-stop shop for you to buy all the things you'll never use. And the same stalls every year, too. So that just in case you forgot to buy something you'll never use last year, you can make up for it this time around.

We are of course kidding. We love Numaish. We go every year to look at the same stalls and buy the same stuff - the discounts on electronics and kitchen appliances are pretty cool, though. And to eat popcorn and get cotton candy stuck in our teeth. And to touch the sky on the Ferris wheel and scream out projectiles of vomit on the Tora Tora (or was that just me?).

The Exhibition Grounds are known best for this much-loved industrial exhibition. But did you know that there are other things held here as well? Bet you didn't. Ha! There are in fact many other events held here. For instance, the annual National Science Exhibition, with its endless rows of nerds and education-resistant schoolchildren being herded along, and the slightly hoity international participant stalls. Kids and science and dreams of changing the world. Moving stuff.

The Hyderabad Art Society has held its annual shows here with local and national artists at the grounds, and the area is also popular with schools and organisations that hold competitions of all sorts. The Indian Consumer Exhibition is also a big favorite, as is the National Handloom Expo, showcasing fabrics from all over the country. See how much you learn when you visit fullhyd.com?