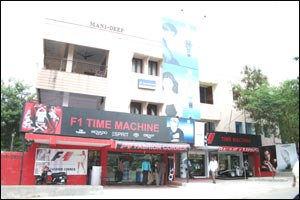 A small store with an even smaller variety of clothing, F1 Fashion Corner's only claim to be in competition with the rest of the attire business is its high pricing strategy. F1 is neither big enough that you can linger and chose at leisure, nor small enough that you can comfortably get serviced over the counter. Here, you will constantly keep bumping into the attendant, who will tell you secrets, like that the ladies wear is all from the last year's collection, or that some of the stuff if not all, is really fresh.

F1 Fashion Corner, though not exclusively for men, is certainly biased towards them. You can find full-sleeve cotton and cotton-mix men's shirts priced between Rs. 499 and Rs. 699. The available colors are only in shades of blue, black and some red. There are other shirts, full and half-sleeved, which start at a lower level of Rs. 300. There are T-shirts priced between Rs. 100 and Rs. 600, some denim and suede jackets priced between Rs. 599 and Rs. 1,350, and men's trousers and denim Jeans starting at Rs. 799.

As an afterthought, F1 also stocks some casuals for ladies. They have a miniscule variety of ladies trousers, Jeans and tops, all at prices compatible with those of their male counterparts. They also have a small collection of deos and undergarments - again only for men.

F1 Fashion Corner tries to be hip and fresh, but has all the ingredients of a small retail shop. If you are looking for big brands or even the smaller ones, you'll be disappointed here.
EVENTS AT F1 - FASHION CORNER
There are no events at F1 - Fashion Corner scheduled currently.