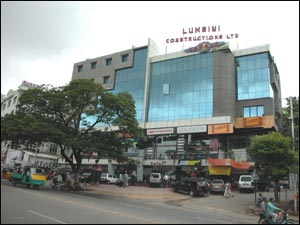 All of a sudden, Hyderabad has woken up to Indian designer wear and stores that sell these. One of the many names in that snooty, gold-engraved plaque is On Skin.

But On Skin is anything but snooty. No Ms-Know-It-All supercilious saleswomen, no Oh-would-you-look-at-what-the-cat-dragged-in attitude. A very warm little store. Especially since the air-conditioner is never switched on.

Two storeys tall and 1,400 square feet from end to end, this plush little place stocks everything in designer clothing. We say plush because, comfortable couches are strewn over the place.

On Skin stocks wear from all over the country. Collections of Sweta Choudhary, Renu, Jagdeep, Vikram Phadnis, Manav Jaisingh, Personal Effects and Secrets feature here. Club wear, semi-casual wear, formal wear, leisure wear and fashion wear (whatever in the world is that?) for both men and women, in Indian, Western and fusion styles are found copiously. Plus, fabrics like linen, polynosic, jute, crepe, chiffon, cotton, silk, georgette, viscose and a lot more.

The place also sells material for shirts, suits and trousers by the meter. Prices range from Rs. 295 a meter to Rs. 1,095 a meter. Custom-made sherwanis can also be got for anything between Rs. 1,295 and Rs. 15,000.

The women's line includes tops, skirts, trousers, capris, gowns, denims, salwar kurtas and ghagra-cholis in all the colors imaginable, and are priced between Rs. 595 and Rs. 16,000.

On Skin is probably the first store that is partial to men. No, no special discounts. Just a wider range which consists of shirts, trousers, capris, T-shirts, party wear, belts, wallets, sherwanis and kurta pajamas. The prices range from Rs. 495 to Rs. 3,200 for the ready-to-wear line, and from Rs. 395 to Rs. 1,200 for the belts and wallets.

On Skin takes its name literally. You'll feel like you're the protagonist of a taxidermist's dream when you don on some of the wear here, which feels like genuine fur, leather and suede, and is anything but genuine. But will cost you the same, mind you.

That's On Skin for you. Designer wear, warm and $$$$ly.