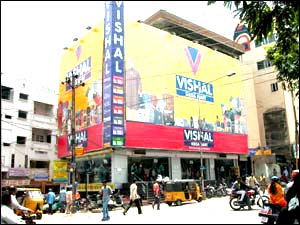 Any place that calls itself "Vishal" – which means big – and also, adds a "mega" to its name just has to be gigantic, right? Wrong. The only thing big about Vishal Megamart is its name. The rest would give a pimple an superiority complex. What they need is a reality check – maybe Mallika Sherawat's Cannes pictures would show them what's big and what's not.

Now usually, in standard parlance, a mart is a place where we find a variety of items, be it household goods, sports, clothes or even accessories. But the guys at Vishal's are closet rebels, and how. Their mart is in the business of selling clothes, clothes and more clothes – a whole 4 floors of them. Agreed that a fully clothed nation might just be one provision of the Common Minimum Program, but this is taking it a little too far, methinks.

Fine, now that we are in, let's check out what they have to offer. The clothes look decent, feel decent and are also decently priced, but decency isn't actually a virtue nowadays. Despite the absence of any well-known brands, the range is pretty diversified and well-maintained. The store stacks clothes for men – two floors of it, by the way – women and children, and most new designs find mention. You'd have to actually take the plunge and buy stuff to discover whether they would last, though.

The place on the whole is worth a visit, for the clothes if not for anything else.
EVENTS AT VISHAL MEGAMART
There are no events at Vishal Megamart scheduled currently.