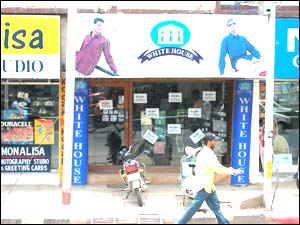 Any article about a place called "White House" just begs you to start off with a monologue about Bush and his minions, or, in turn, Clinton and his under-the-table dealings. But just because it is so clichéd and I am a closet radical of sorts, I shall not start off that way. Ah! You expected that did you. You thought I would use reverse psychology and talk instead about Michael Moore and his intense and at time justified hatred of Bush. Now that would be something interesting, wouldn't it? One could go on about how Mr. Moore hates roses, just because they come from a rose bush and he somehow thinks its some distant relative of his pet peeve. But I am one step ahead of you, my friend. I shall not talk about that either. Hah! Got you there, didn't I?

Instead, I shall just confine myself to talking about the store proper, and nothing above or beyond the call of duty. I'm not looking for medals here. It's just a profile after all. Now to the shop then we shall proceed.

It isn't hard to find: it has a huge banner outside it proclaiming proudly that what you are looking for is finally within your reach. The banner, by the way, is bigger than the shop, which is a hole-in-the-wall kind of place, with shirts and trousers piled high onto the walls. But the height of ingenuity is the table right in the middle of the shop: a glass plank mounted on boxes full of clothes.

The clothes aren't anything to write about, and I don't plan to write much about them anyway. They are the usual fare that you would get anywhere else. The designs are interesting and the colors decent, but the quality of the cloth is suspect. White House is a company outlet, selling its own brand of clothes. The brand isn't well-known enough to warrant mention. The prices seem reasonable, though, ranging from Rs. 300 to Rs. 600.