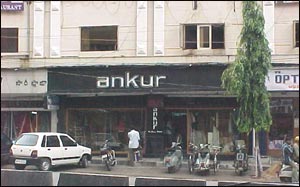 Ankur has some very faithful customers. They indefatigably adulate the store, parroting how the saris are 'priced well'. It makes you wonder how the owner has bought his customers. He has customers who frequent his store since over a decade, even.

From pleasant cotton saris with simple designs to laden georgettes of bright colors, Ankur The Sari Shoppe has 'em all. There are some excellent saris made of georgette that will entice you, and the soft cottons will draw you even if its winter. Some of the heavier saris come along with readymade blouses too.

The reasonable prices mean that you can get yourself a delicate kutch work sari with a readymade blouse for Rs. 7,500. The price of the saris ranging between Rs. 500 and Rs. 20,000, and you can choose from cottons, traditionals, crepes, printed georgettes and fancy embroidered saris.

The saris are brought from various parts of our country, and cater to mostly South-Indians (duh) and NRIs (double duh). Ankur takes orders too, and can deliver within a week to ten days.

What will strike you is the personalized touch from the owner. Not only does he select most of the saris that come from different parts of the country, he also gives you a bit of a history behind the more outstanding ones.

Ankur means 'to blossom'. Aptly so, given it's been blossoming since 1982. Do consider it when you want to shop the next time for saris.
LEAVE A COMMENT
fullhyd.com has 700,000+ monthly visits. Tell Hyderabad what you feel about Ankur - The Sari Shoppe!