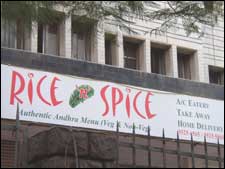 A quiet unassuming little place off the busy Somajiguda Circle Road, Rice 'N Spice now sits where the beloved Seema's Coffee Shop Thali Home used to. But many would agree the loss has been made good; you can still get a hot plate of rice and Andhra curry here at a pretty reasonable price.

Simple in décor and service, RS specializes in coastal Andhra cuisine, but also serves North Indian and Chinese food. These are more like mandatory additions to its basic menu.

You can start off with the gobi manchuria, which is quite popular, chicken 65, or the spicy chicken roast. The Andhra food selection isn't very wide, but what does feature is usually good. Order a plate of steaming rice, and the gutti vankai or dhondakai masala, if you're vegetarian. Non-vegetarians have a wider range to choose from, among which the gongura mamsam, mulakai mamsam, fish pulusu and naatu kodi iguru are very hot-sellers. With rotis you can have the fish or chicken iguru.

In Chinese people prefer the fried noodles or fried rice, with appollo fish or schezwan prawns. The North Indian tempts with the usual favourites like the paneer butter masala, kadai vegetables and butter chicken.

As in most such places, you'll only find ice-creams for dessert. But since RS is mostly a joint for working lunches, nobody minds. Especially when they're getting good value for money.