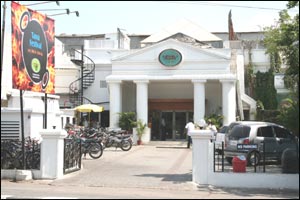 All vegetarians in the city, including the ones from out of town, have at some point been to Utsav. It is one of the few purely green joints in these parts, and it's pleasant, reasonable, and whips up some serious bliss in its kitchen. And with The Nest now gone (and much-mourned), Utsav reigns supreme.

Although Chinese and Continental is also served here, it's desi grub that they specialise in, especially cuisine north of the Vindhyas. The service is warm, and the restaurant's interiors are done up so you'll always have enough space to yourself. One of the nice things about Utsav is that even though it's very popular and has quite an impressive crowd waiting outside for a table, they haven't given in to the temptation to cram a few more tables in there. So overall the feeling is one of pleasant airiness.

Make sure you're good and hungry before you get here, but get something to nibble on while you wait for main-course to arrive, because this takes a while. The Threaded Paneer, Corn 65, and Spicy Money Bags (also with paneer) are well-liked. The Dakshin Thali is good value-for-money at Rs. 85. But if you go a la carte, get the Stuffed Kulchas. They're heavy, but not too greasy as they tend to be at other places.

Kulchas or rotis go great with any paneer gravy, like the Tawa Masala, Kalimirch or Makkai Mattar. The paneer here is extra soft and succulent, and this coupled with the spicy yet subtle gravies that are the Utsav trademark, makes for quite a deadly combo. You'll see why most every table has a paneer something-or-other on it.

With the pulao or jeera rice, you can also get the Tarkari Jugalbandi, Mushroom Masala or the Maharaj Ki Pasand (chef's choice), which is nothing to write about but comes highly recommended.

Many also prefer to get Chinese, and the soft noodles are a common choice. Try the house specialty with Crispy or Ginger Noodles, with Shanghai Vegetables or Babycorn In Hot Garlic Sauce. The creamy Macaroni Au Gratin is the favorite in the Continental section. The best way to go about trying a little bit of all the nicest tastes is the multi-cuisine buffet, which goes all out on the weekends when you have more to choose from, making the choice that much tougher.

For dessert try the assorted sundaes, rasmalai and gulab-jamun. A huge restaurant by any standards, Utsav has managed to keep the interest alive and its waiting room packed simply by hanging on to a good thing - delicious food. This is how it all started, and this is still what keeps them coming back.