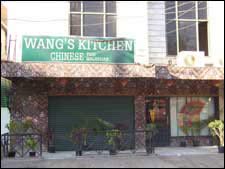 A quiet little place that you wouldn't suspect was tucked away behind the bustling Model House complex, Wang's Kitchen is the kind of place you'd stumble into some famished lunch-hour. And then you'll want to proclaim it to the world as your 'find', only to be told that the world has known and loved this restaurant for 6 years now.

If you're not in the mood to bum it for dinner, but don't exactly feel like airing the tux, then Wang's is a good bet. It's refreshingly simple, in dcor and mood. Nothing simple or ordinary about their menu, though. Thai, Malaysian and Chinese, it's all here.

And the choice is not overwhelming, either, as it tends to be in the latest multi-cuisines around town. Besides, the service is crisp and efficient, so you'll be ushered through the choices of Far-East cuisine with minimum fuss and some very happy results.

Among the soups, the Tom Yum is popular for its lemon flavour. For starters, you might want to try the Phuket Fish (spiced with garlic), the Velvet Fish (with coconut milk), or the Thai fried fish. Fish, in all its varieties, is lovely here. Another must-try is the Garlic Fried Rice, with its divine roasted flavour. It goes great with Babycorn And Vegetables In Hongkong Sauce or the sauted Shangai veggies. For dessert, you can't go wrong with the date pancake and ice-cream, or the Ice Kachang, which is your basic ice-golla gone mod.

Prices are on the slightly expensive side, so this is a special-occasions sort of place. But the portions are far from stingy, and Wang's does fill up during meal-hours. Thanks to the thoughtful design, though, you won't feel crammed. So you can take all the time you want over your noodle soup, while you watch the chefs toss up something fantastic.