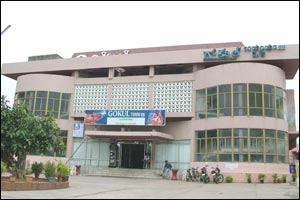 Okay, Bachendri Pal climbed the Everest, and people say it is a feat that puts to the ultimate test your mental and physical endurance. Obviously, not many of them have tried purchasing tickets at Gokul. I say 'tried' because very few actually succeed in crossing the threshold. Those who do, have battle scars to show for their endeavor, courtesy the lathis of the gatekeepers who perceive all human life other than their own as dispensable.

But if you do manage to get through stage one, you are rewarded with cushy seats that have cup-holders and decent legroom. Big Telugu films are released here, and "given a weekly run unless that run extends to a hundred days" - whatever that means.

Anyway, the air-conditioning and the sound system at Gokul are amazing, and that takes the movie-watching experience to a whole new level, provided you do not consider stage one. Among other things of note are the loos that are strategically placed so that those outside can get a peek within, and the spiral staircases which need your footwear to have Velcro soles.

All in all, a good place to watch films of your favorite stars, if you have your insurance papers in order.