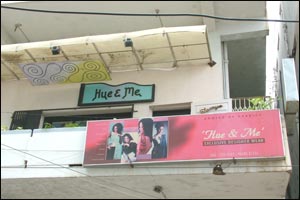 Hue And Me is where you go for all your fusion needs, custom-made to suit your style to make that fashion statement. Known for its penchant for treading off the beaten track and using a color combination that is uniquely vibrant in every sense of the word, the store has all kinds of ethno-Western wear for every occasion. Most of what is sold here is made inhouse, though a few designer labels also share the same shelf-space.

Block print, zardosi embroidery, patch and mirror work, crystals, and mix-and-match work, you find 'em all here. And it's not just for women either. The men will be astounded at how masculine supposedly feminine designs can appear on their kurtas. The sari, through the ages, has been defining the Indian woman. Nothing adorns her quite as beautifully, especially when made of fabrics as innovative as tissue and crepe.

All of these would really be a little bland without the right accessories to go with them, right? So, what do you need? A little jewelry, some lace, a sash probably, the evergreen bindi, and, yes, handbags. No ensemble is ever complete without the right handbag. But be wary. Why? Because you may buy a handbag that goes with nothing you have (honestly, it is easier resisting the temptation of the deadliest of sins), and then you'll end up having to buy an outfit suitable for it.

A store where you can shop for any occasion - that is Hue and Me.