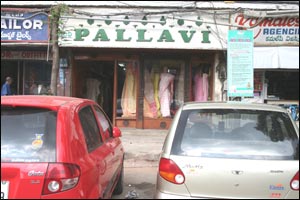 Hyderabad summers are legendary. Especially if 'legendary' in your dictionary means 'hell'. If you have to wear clothes, make sure they're cotton. Polyester and the likes are known to bubble, melt and attach permanently to your skin. Basic facts of life every city-dweller will tell you in exchange for a drink of cold water. They'll also tell you that there are two kinds of cotton, and to keep away from the great rip-off that is 'cotton mix', which translates to 'some slippery material that isn't cotton'.

To avoid spending precious moolah on these so-called cottons, go to a store like Pallavi. Sure, it won't leave you with any money to, say, get back home, but at least you will have made a quality purchase. Pallavi makes its fortune from selling the most scrumptiously soft cotton saris, salwars and linen. The fabric is super-fine, and lasts forever. It should too, at those prices.

Pallavi saris have a distinctive look, made up of some gorgeous block prints in striking contrasts of mostly black-and-whites. The prints in themselves are pretty, but it's really the fabric you're paying for. The prices for the saris, salwars and kaftans start at around Rs. 500 and go upwards well into the thousands (for saris). The cottons here are very durable and absorb starch comfortably even years after they're bought. And they don't often repeat designs or prints, so if exclusivity is your thing, Pallavi is where you should be going broke.