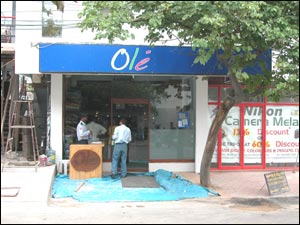 Huh? What? Where? How? Wait! Where am I? Who am I? Blink, blink!!! Blink!!!

Okay, order restored. The reason for the incoherent attack of the exclamations, question marks and monosyllabic words is this – Ole, the cute little store, just turned around and did the Baycarrumba. What the hell is a Baycarrumba? Well, how would we know? But sounds cool, don't you think?

Ole has now annexed territory and tripled in size. So now the store is bigger (800 square feet approximately), newer and brighter. In a word – renovated! And surprisingly, it is not making you pay for that. The prices here (the reason why the store became famous in the first place) still remain the same.

Ole is the one-stop-shop for all the Western wear needs of Hyderabad's population. With prices that start at Rs. 30, which store wouldn't be?

Ole stocks Western wear for men, women and kids. This includes shirts for party wear, formal wear and casual wear, shorts, night wear, capris, tracks, T-shirts, trouser in boot-cuts and straight fits, Jeans in various fits and styles, peasant tops, skirts, kurtas, spaghettis and halter necks. The prices start at Rs. 30 for a tee, and the highest here is Rs. 650 for a pair of polynosic trousers.

Apart from clothing, Ole also sells wrought-iron mobile stands, car stickers, junk jewelry, sunglasses, caps, key-chains, hats, belts, wallets and mugs. The prices for these range between Rs. 10 and Rs. 150.

The place is done up in wood, and a green-colored model of a standard Fiat looks down at you from the ceiling. It also has two trial rooms, dressed up to look like camp tents.

Ole has an extremely trendy line of clothing, and that trendiness spills over to its look and its staff. All in all, this is one of the best places to pick up your smart fashion needs.